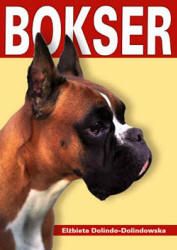 Boxer – Ancient ancestors
The author, a breeder and admirer of Boxers, presents her favourite breed of dog, interweaving objective information with personal experiences and stories about her pets.
". If you ever start a personal boxing club, this family band of two (and then three, etc.), it will stay that way forever. Entering adulthood and then? more mature, you have less and less strength but more and more experience and you know that you don't want to change anything anymore. It is them, boxers, who give sense and pace to your life, who bring color and grace to everyday greyness. Not just loved, but loved and needed. If you were absorbed by the measurable successes of the show, then with time you will really understand what you always knew, that they are not the content of cynological existence. You tell your boxer: just be?
It may sound excessive, but dog breeds can be compared to works of art. They were created as a result of thought, knowledge, aesthetic sensitivity, intuition for the need to use them, to surround oneself with them, and the final shape, very often refined and sublime, was formed for the sake of beauty. Shape and coat are two basic canons that have been juggled at will over the centuries. A purebred dog is a great gift, a heritage of great cultures and civilizations: Roman, Chinese, Japanese, Arabian. Survived alongside works of art as a living relic of human thought, work and creative intelligence".
Table of contents
History of the breed
Ancient ancestors
German Beauty
Boxer in Poland
Boxer Club in Poland
Boxer in America
His Majesty the Boxer
General impression
Myths and Facts
Character
Intelligence
Aptitude and performance
New member of the family
A puppy in a new home
Breeding
Nutrition
Proteins
Carbohydrates
Fats
Vitamins
Minerals
Water
Composition and preparation of feed
Grooming
Healthy boxer
Sick Boxer
Full of happiness
Breeding
Pregnancy
Birth
Caring for the mother and litter