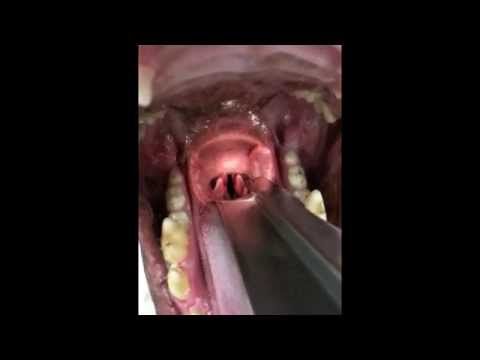 Tumor in the larynx of a dog
question:
I HAVE A PROBLEM, THE VET FOUND A HAZELNUT SIZED TUMOUR IN MY DOG'S LARYNX DURING AN ENDOSCOPY. I WOULD LIKE TO KNOW IF SURGICAL EXCISION IS NECESSARY AND WHAT IS THE OUTCOME OF THIS OPERATION. I KNOW THAT AFTER THIS PROCEDURE THERE IS A SWELLING OF THE LARYNX AND FOR COMPLETE HEALING THE PLACEMENT OF A TRACHEOTOMY TUBE IS REQUIRED PLEASE TELL ME HOW THE DOG REACTS TO SUCH A TUBE, HOW THE PROCESS OF CARE AND FEEDING LOOKS LIKE. WHAT IF THIS TUBE GETS PLUGGED. I ALSO HAVE A QUESTION
IS IT POSSIBLE TO GO WITHOUT A SURGICAL TREATMENT, EVEN TO WATCH THE TUBE FOR A SURE PERIOD, GIVING MEDICATIONS TO REDUCE THE TUBE'S SIZE PLEASE HELP AGATA.
answer:
If you find a tumor in the larynx (given that we do not know the size of the dog), this is sufficient indication to remove it. the procedure is necessary, because the prognosis of the tumor can not be made by eye, and after its removal you can do a histopathological examination and decide what to do after surgery to protect the dog against possible recurrence. As for the laryngeal edema, it should be minimized by the anesthesiologist after the surgery. keeping the tube is necessary as long as there is a threat to health and life. During the first few days, the dog should receive all fluids, medications and nutrition intravenously and, if possible, be switched to a liquid diet, more compact, etc. The tube has no right to be plugged, even if it should be immediately changed for a new one. If there is a tumor I would not recommend waiting or trying to avoid surgery, the chance of complications from leaving a tumor and risking the dog's life are not worth it. anti-inflammatory drugs will not do much, and even if they do it is for a very short time, followed by a period of remission and severe worsening.
Greetings and good luck.